teddy pendergrass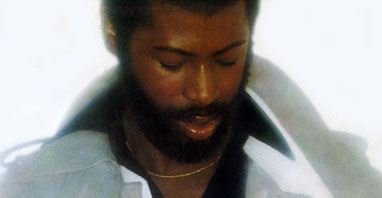 b. Theodore DeReese 'Teddy' Pendergrass, Sr., 26th March 1950, Philadelphia, Pennsylvania, U.S.A.
d. 13th January 2010, Bryn Mawr Hospital, Philadelphia, Pennsylvania, U.S.A.
Philadelphia International Soul singer, Teddy Pendergrass has died. He was 59.
In 2009, Teddy underwent colon cancer surgery and had difficulty recovering. The operation was related to complications from injuries resulting from an earlier 1982 car accident.
He died on the 13th of January 2010, while hospitalized at Bryn Mawr Hospital in suburban Philadelphia.
Teddy Pendergrass was born to Ida Geraldine Epps and the late Jesse Pendergrass.
He was a student at the old Thomas Edison High School for Boys in Philadelphia.
Teddy left school in the 11th grade to go into the music business.
When he was young, Teddy was ordained a minister and became a drummer to further his musical ambitions.
Teddy became the drummer for the group The Cadillacs, who later merged with Harold Melvin & the Blue Notes.
He became the lead singer and the group signed with Gamble & Huff on the then CBS subsidiary Philadelphia International Records in 1972.
Harold Melvin & the Blue Notes were hugely successful, scoring chart hits with songs such as 'I Miss You', 'Bad Luck', 'Wake Up Everybody' and the multi million seller 'If You Don't Know Me By Now'.
Teddy left the group in 1977, launching a solo career, resulting in the releases 'The More I Get the More I Want', 'Close the Door', 'I Don't Love You Anymore', 'Turn Off the Lights' and 'The Whole Town's Laughing At Me'.
His first PIR solo album was the self titled 'Teddy Pendergrass' (in 1977), which was followed by 'Life is a Song Worth Singing' (in 1978), 'Live Coast to Coast' and 'Teddy' (in 1979), 1980's 'TP' and the final Philadelphia International Records album 'It's Time for Love' (in 1981).
He also sang a duet with Whitney Houston on "Hold Me", from her self-titled debut album.
On 18th of March, 1982, in the Germantown section of Philadelphia on Lincoln Drive, Teddy was involved in an automobile accident when the brakes failed on his Rolls-Royce and he hit a tree.
Teddy and his passenger, Tenika Watson, were trapped in the wreckage for 45 minutes.
As a result of the accident, Teddy suffered a spinal cord injury leaving him paralyzed from the waist down.
In August 1982, PIR also released 'This One's for You', while Teddy was recovering from the automobile accident.
In 1983, the album 'Heaven Only Knows' was released, containing his final pre-accident recordings.
In 1988, Teddy released the album 'Joy', which featured the popular songs 'Joy' and '2 a.m.'
He relocated to a new label in 1996 after a lengthy gap in his career, recording 'Believe In Love', which was considered as one of his finest recorded moments in recent years.